The 3 star Hôtel Artea welcomes you in its 48 functional rooms, distributed into 5 types and fully equipped with free Wi-Fi Internet access.
A traditional continental buffet breakfast service is available every day from 6.30 to 10.30 and can also be served in your room or to go.
Visit Aix en Provence from the Hôtel 
Located in the heart of historical Aix-en-Provence just a few steps from the Grand Theatre and the Rotunda Fountain, the Hotel Hôtel Artea is the ideal location to immerse yourself and experience the atmosphere of the city.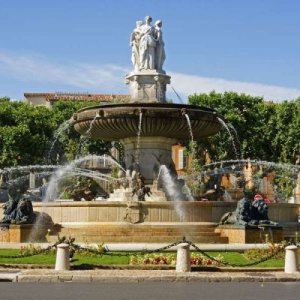 Stroll through the old town quarter
The Provencal city of Aix-en-Provence offers a cultural and architectural richness both rare and unusual.
With its many fountains, Aix-en-Provence recalls its Roman history as a spa town.
Strolling through the streets of the old town, you will discover a warm and charming city.
Here are the highlights of this itinerary:
    The Rotunda Fountain, at the end of the Cours Mirabeau, is located right next to the Hôtel Artea
    The Cours Mirabeau and its many private terraces and hotels of the 17th and 18th centuries
    The Town Hall and its esplanade
    The Saint-Sauveur quarter and the Clock Tower
    The cathedral, its cloisters and its many treasures
    Numerous streets and lanes for shopping
    Provencal sun-drenched markets
Hiking trails in Provence
The Aix countryside is full of walks and excursions to be explored with friends and family.
These walking tours take you on historical paths as well as through the heart of vineyards, pretty villages, and the beautiful Mediterranean forest.
The Granet Museum
The Granet Museum is nearby the hotel Hôtel Artea, on Saint-Jean de Malte Square.

The museum spans over 4000 m² focusing on paintings and sculptures.

You can discover over 12 thousand works and masterpieces from the Renaissance, modern and contemporary periods.